Good evening everyone!
I made it safely back to Germany!
For some reason, before going to Germany I was not overly excited to go back home. I mean, I wanted to see my boyfriend and friends and family of course but I was not "OMG I'm going home!!!" all the time. I never am. However, when I landed yesterday and spend the day with my boyfriend I was like "damn, how did I survive on the other side of the pond the whole time?!" It really is great being back home! So many friends were waiting for me, I feel very blessed :) My return flight however was horrible. I flew back with Qatar Airlines (because Finair, my usual number one choice was booked out, it's the shortest route from Asia to Berlin as far as I know, only 12 hours!) which meant Seoul - Doha 10,5 hours, waiting 4 hours in Doha and then 6,5 hours back to Berlin. Damn, I tell you, that was
such a long Tuesday
! My Tuesday had like 30 hours. Plus, we had crazy turbulences on the second flight
I was so so scared for my life
. I am not very scared of flying (ehrm... can you tell by all the 10+ flights I've done recently?) but also not a huge fan. So when our airplane jumped through the clouds like a crazy cat trying to catch the red dot....that was just too much. After being on the road for over 20 hours already. I was so so happy when we landed ( 1 1/2 hours too late, sorry boyfriend...) and my boyfriend picked me up! We are currently in lovey-dovey mode again as you can imagine and it's awesome. I'm so blessed with this patient loving boyfriend. 
Today's post I wrote quite a long time ago but then my trip to Japan plus giveaway came in between so I saved it in order to avoid "spoilers" for my giveaway. But today, in the midst of harsh winter winds (if you live in a...harsh winter winds country like me,that is. I know some of my readers are blessed with eternal summer!) I present you: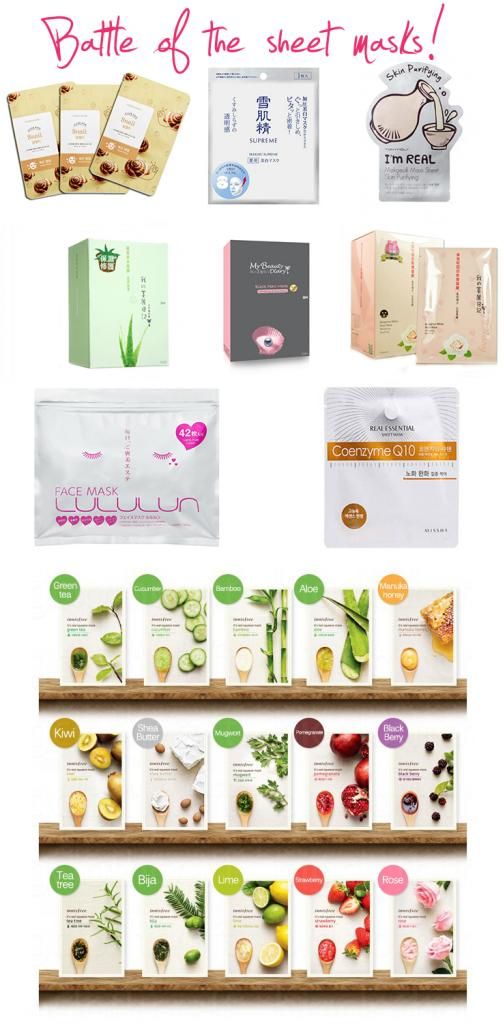 I am proud to present you yet another big skincare battle post: Battle of the sheet masks! I use sheet masks a lot but honestly, they are not worth a whole post for themselves. I can't take pretty pictures of them, I look weird with them on, there is nothing to swatch and reflective packaging is the worst to photograph. However, since sheet mask does not equal sheet mask in general, I  made this huge compilation of all masks that I have tried so far. I review some more than displayed here because I added some others later when I already finished writing this post. Enjoy!