Good evening y'all,
I hope you're ready for a serious review. Because this product is seriously amazing. But let's start at the beginning: Not a while back, I would use any cleanser that looked fancy enough to me. I didn't have any preferences and wasn't even aware of the differences every type of cleanser has. In preparation to my move to Korea I searched the web and found out about the
Korean Skincare Routine
and it's first essential step: Double-cleansing.
Double-cleansing was designed to effectively get rid of make-up and sunscreen which can be quite tricky to remove by just one cleansing step. However, if you clean your face twice it's very important that both cleansers are gentle enough so that you won't hurt your skin barrier. The most common combination is an oil cleanser paired with a foaming cleanser and today I'm gonna share with you my thoughts on the Shu Uemura Porefinist Cleansing Oil.
Although I lived in Japan twice, I never tried anything from Shu Uemura while living there - mostly because it was not sold where I lived and because the brand is really expensive. Eventually I learned that the Shu Uemura cleansing oils are very raved about in the internet and as I wanted to establish a somewhat Korean skincare routine I was set on trying them. It wasn't until my move to Korea though that I finally get to try them - luckily for me, moving to Korea involved a flight to Seoul and therefore a visit at the duty-free counter! I had rougly 6000Yen left when went to Korea and as wasn't enough to exchange it my mother gave me the permission to spend it all at the dury-free counter (not that I need permission with my 25 years but it feels better to spend the money when someone approves of it. Simple psychology.)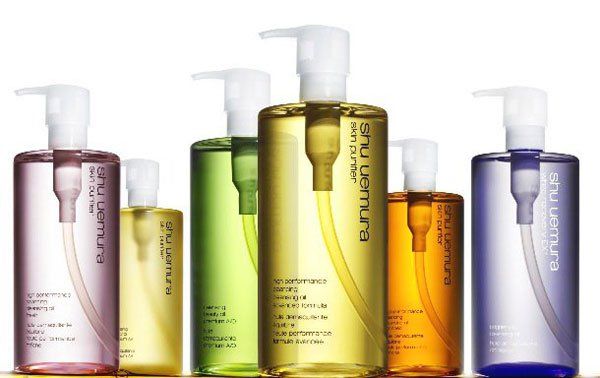 And there it happened: Love at first sight. But it's not like you enter the store, grab an oil and leave: At least for me I was overwhelmed by the choices of different oils that I had so I did the logical thing and let me educate from the friendly staff.  Shu Uemura has a variety of oils for different purposes: Whitening (blue), anti-aging/antioxidants (green), balancing (beige), special luxurious formula (gold), pore-minimizing (pink) and the classic one in a yellowish bottle. Since I have a lot of breakouts and oily skin she recommended me the pink porefinist oil which, as it happens, is also the newest one in the family and has a scent of sakura. Bet it's a bestseller in Japan: If it's pink and smells like cherryblossom, it will be sold. Everywhere. (Yes, that strategy still works.)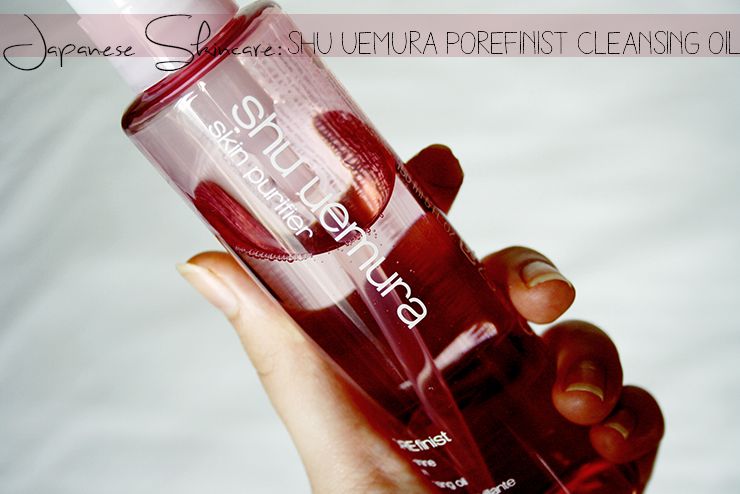 Shu Uemura sells their oils in two sizes; 150ml and 400ml. While you get a better deal with the bigger version I decided on 150ml to try it out first. I paid 2200Yen at duty-free and I read that it usually retails for 60$ and a whopping 155$ for the full size. However! I checked ebay and other sources and it is definitely possible to get it for almost duty-free prizes online, so don't be devastated yet.
Claims of the pink formula: oil & sebum control, anti-shine and pore-minimizing.
Ingredients: Ethylhexyl Palmitate, Isopropyl Myristate, Caprylic/Capric Triglyceride, Polyglyceryl-6 Dicaprate, Dicaprylyl Carbonate, Polyglyceryl-10 Dioleate, Phenoxyethanol, Polybutene, Polyglyceryl-2 Oleate, Dicaprylyl Ether, Tocopherol, Squalane, Simmondsia Chinensis Oil, Menthoxypropanediol, Carthamus Tinctorius Oil, Capryloyl Salicyclic Acid, Propylene Glycol, Capryloyl Glycine, Sarcosine, Prunus Cerasus Extract, Cinnamomum Zeylanicum Extract, Prunus Yedoensis Leaf Extract, Parfum.
Man, that took quite some time to type. Reason why I typed that out is a) it's not printed on the bottle and as I threw away the package I wouldn't know the ingredients and as I know you, my readers, might probably do the same you can check it here. Also, I wanted to check the ingredients via
Cosdna
for possible acne triggers and irritants.