EYEBROW ESSENTIALS, or: Why eyebrows are important.
Tuesday, 20 May 2014
Hello my dearest ones,
I thought that I'd share my views on a somewhat "controversial" topic today - at least in Germany. Almost everyone I meet in Germany is talking about my eyebrows. Why the hell I color them and why I don't just accept nature because obviously I do have eyebrows so I don't need to color them, right?
-Wrong. I don't know why, but coloring or shaping eyebrows in Germany is still not really a thing here. Of course a lot of people are doing it, especially beauty bloggers but no matter where I go, there is always someone pointing at my eyebrows "Why are you doing that?" It has been the matter of discussion for quite some time so I thought about making comparisonal pictures. Of course I do have eyebrows, and I even have a lot thicker ones than others have but still - since I have dark hair naturally, my eyebrows are quite dark. However, I have a lot of spots so that they don't look even and I actually really don't like how it looks.
I think that's a pretty normal reaction, right? If something's missing, you paint it on. It's as easy as it gets. Since most people tell me they could hardly tell a difference (why point at them then though, I thought?) I decided to provide visual proof. What you do to your eyebrows is important and can change the whole look of your face.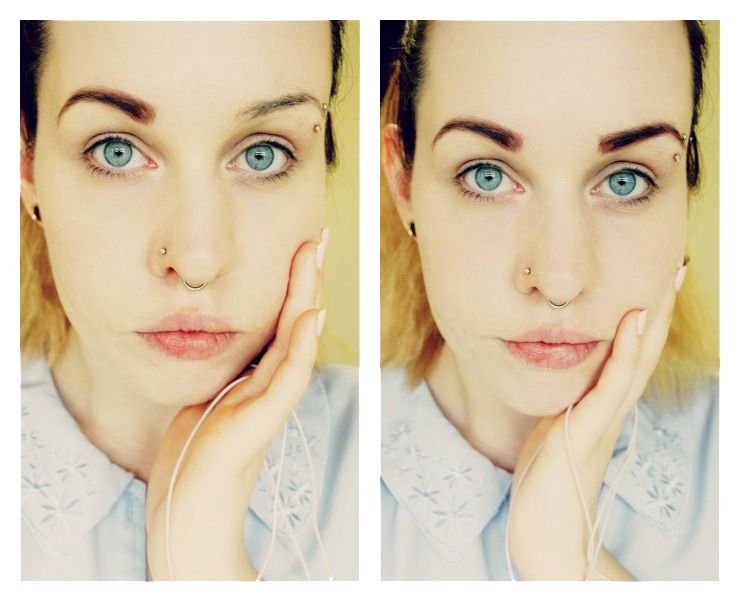 See the difference? So there you have it. The naked truth. Eyebrow- and make-up wise. As you can see, although my eyebrow already have a good shape and are even quite full, especially at the very beginning there are some spots missing which somehow makes my face look a little disturbed. Also, the eye where I already did the eyebrow somehow looks a lot more "awake" than the other half of my face. With both eyebrows done the whole make-up looks already much more completely although I only used foundation and concealer. Although I usually need my everyday eyeliner in my life, I go out like this probably half of the time when I overslept. No matter how little I do; If I go out I do my eyebrows, they are a must. :)
I actually used an eyebrow pen for the longest time ever. For maybe like 10 years. Just recently that changed and what you see in the pictures above was created with brown eyeshadow and a wing liner brush. I feel I can work a lot more accurate with the brush and the color tends to be more opaque then when I use a pen. I also use a darker color than before since I colored the top of my hair dark brown which you can see at the corners. (However, this is due to the fact that this is the only brown color I own. I plan on getting a shade that is slightly lighter than this one to make it look less harsh :) ) Here's a picture from about half a year before for comparison:
I still had lighter hair at that time; I tend to adjust the color depending on my hair color since I change it up so often. The lighter I dye my hair the lighter my eyebrows get because I don't like the contrast of blonde hair and darb brown eyebrows, it looks very unnatural to me. Which one do you prefer? I kind of like both :)
...I hope you did not expect a long list of items - thats actually all I use! When I was using an eyebrow pencil it was even one item less. As I mentioned before in other posts, I am totally in love with the brushes from Zoeva. So far, all of them have been of amazing quality and this winged eyeliner is no exception. It is sturdy and gives off color very good. Also, I am so happy for my (now second) "Oh So Special" Sleek Palette, this is actually the only palette that I bought more than once. It is so versatile; I can create appropriate make-up looks for work and vamp it up into smokey eye in the night or, as currently, using the shadows for my eyebrows. The color actually lasts all day (and sometimes even night) without smudging or doing anything weird. After more than one year, still very in love and big recommendation! :)
Hope you enjoyed this post and if you have any questions let me know!
Love,
Sam