Favorite Lip-Product Of The Month: Code Glökolor.
Friday, 28 November 2014
Happy evening ladies and gents!
I am currently obsessed with lip products. Why? Because lip products in Korea tend to be better than their European counterparts. For one, the range of products is HUGE. When we can decide in Europe between lipstick or gloss, you can chose between a variety of consistency and colors: lip waters, tints, milks, stick, gloss... I also find the color variation is better, I just enjoy trying out a lot of different colors!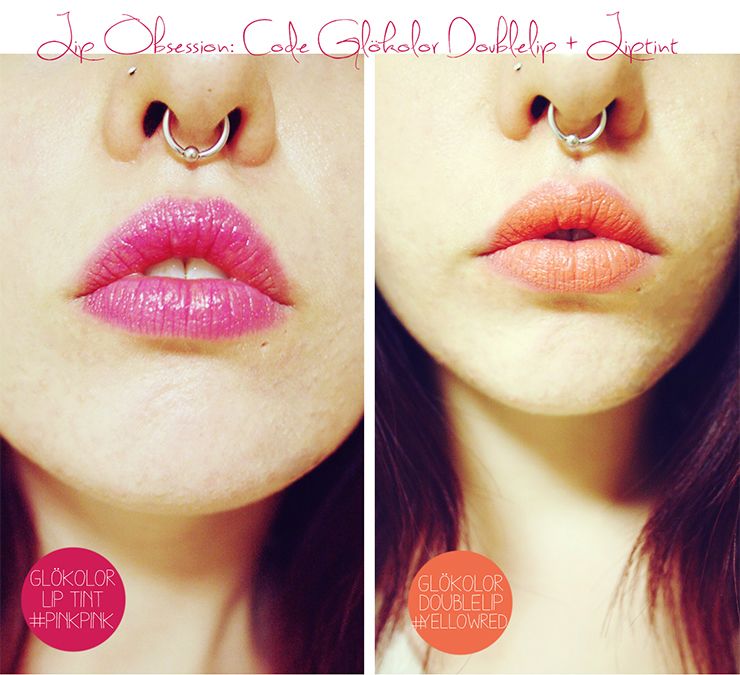 I was actually looking for an orange color not too long ago but couldn't decide on anything... and I also wasn't sure if orange would suit me as I have mostly cool undertones. But when I slept over at my friend's place she -out of the blue- gave me a orange-reddish lipcolor as a gift! One of her friends works for the beauty department at LG and she often comes home with all kinds of beauty goodies before they get released for real. Dream job, anyone..? The lip product she gifted me was the relatively new brand Code Glökolor Double Lip, which belongs to the LG Household company and will be the main protagonist in this review :)
Glökolor is a relatively new brand (spring 2014 as far as I could read the Korean news..) that focuses mainly on lip products - and without wanting to spoil, my favorite brand when it comes to Korean lip products so far! The image is def. a bit Northern Europe, without any frills and the name itself looks as if it could be Swedish. (Rep says the name comes from "Glow" and "Color"... not sure what the German "ö" is doing there, but okay, gonna be creative I guess.) What I love about this brand: All their products are insanely pigmented! They basically have around 8 to 10 colors in different versions: As lip tint, which has a glossy finish, lip milks, lipsticks or the double lip which I personally think is closest to being a lip pigment and dries quite matte as you can see in the picture. They range from 12,000 - 19,000 Won.
The product comes in a little tube with an applicator, that I personally haven't seen anywhere else before. It's made out of fabric(?) and has a feeling that I absolutely hate. I can't describe it, I hate when this applicator touches my lips (probably because my lips are mainly dry and this type of applicator makes them even more dry feeling when applying. :/ ) Good thing though: You can unscrew the grey part and get product out this way too, so whatever works for you!
The product itself is quite thick and leans more towards lipstick than lipgloss consistency. It is absolutely non-sticky and dries quite matte. I always put lipbalm over it though, because my lips are too dry to sport an overall matte look. The color is very vibrant and buildable - I usually smudge my color out a bit with the applicator which is why it doesn't look as in-your-face as these swatches do. You can build the color up to this opacity though if you feel like it! This is main point why I really like this product: You can get as sheer or as opaque as you like depending on the application.
Actual wear pictures in two different lights (#1 natural, #2 artificial light)
You can tell the orange shade better in real light (it gets a bit peachy indoors) This is one coat blended out which is how I'm using it most times for university. I love that you can tell right away that I'm wearing something but it doesn't jump right into your face. I feel this is especially important for people with acne light me; too strong colors can easily make your face look unbalanced and too red.
Indoors it gets a bit more peachy (in pictures, not in real life of course..) Another plus point: This fades really natural. It is not the most long-lasting products of all times although I feel it lasts better than the Etude House lipsticks. I think this is because the product dries relatively matte and sticks better to your lips. Reapplication after eating or (too much) drinking is recommended. You don't need to be afraid to look like a clown though: this fades like a charm. No ugly inner or outer corners.
Here's how it looks with two layers instead of just one:
Don't you just love that color? I personally think it's the perfect marriage of orange and red, will certainly wear this for a long time :) I also made some pictures of the booster tint in #pinkpink although I only swatched it and didn't buy it (yet). Although I really like this color on me personally, I still have a little confidence issue with bright pinks. I don't know why. This is how the lip tint looks when the color has worn a bit off and left behind the lips stained (I did drink tea etc.):
I'm sorry the color is a bit off in those pictures, I had to take them indoors when I came home in the evening :/ Color in real life was a bit darker than you see here; this is what the booster tint looks like when the tint had time to set. It leaves a gorgeous and quite opaque stain that stays on quite well, def. better lasting power than the double lip. I will at least get one color of this range :) It is very glossy at first but not as sticky as a gloss. After it wears down the lips still remain quite colorful for several hours. Instead of the squeeze tube this one comes in a sturdy tube with a doefoot applicator.
Final verdict: I think Code Glökolor is a very promising brand. Their lip products are top notch and especially suited for everyone who loves good pigmentation. I am very impressed by these and will try more colors! Unfortunately, I couldn't find any links to buy these online yet, not even on Gmarket :( However, it's important to do reviews in order to spread the word and hopefully make the big online markets pick those up when enough people are interested in it. If you have any questions, shoot right away! :)
Happy weekend everyone!
Love,
Sam